XTIA Xproto-ATX case (Pre-order)
Regular price

€178,95 EUR

Regular price

Sale price

€178,95 EUR

Unit price

per
 pre-order
Orders After 25th April  Will be sent around 23th May . 
A PCI-E extension cable (PCIE 3.0) in vertical mounting mode will be given to all pre-orders, as a pre-order gift .   (Can fit  ATX, MATX, DTX, ITX MB ) 

Sorry, because there are too many accessories for Xproto-ATX and the production process is too complicated, we have not solved the production yield problem yet, so the amount that can be provided per batch is relatively small
PCIe 4.0 cable (Linkup customized 17cm single reverse) for Xproto-ATX will be available later.
The latest version  modified:
1:Provide additional water pump bracket (need to use a power supply within 14*15CM)
2:Zone C (between AIO and motherboard) provides 1-2  2.5 SSD mounting positions, the original 2.5 SSD brackets is upgraded to two 3.5HDD brackets(The specific number of 3.5 hard drives that can be installed is determined by the length of the power supply)
https://xtia.design/blogs/%E6%96%B0%E8%81%9E/the-tutorial-of-sata-bracket-for-xproto-atx
3:The side AIObracket  can be installed behind the graphics card to solve the problem of inconsistency after the installation of an overly long graphics card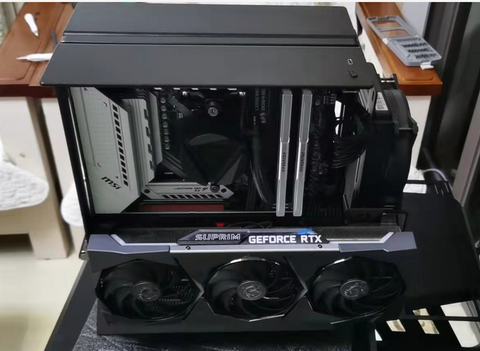 We have been thinking about how to use the SFF concept to design an ATX layout, to reduce the hardware requirements of the butterfly structure
Features
1:Compatible with ATX /MATX / ITX / DTX  motherboard
2:The smallest volume *(Need to use 240 water cooling)is less than 17L
3:Continuation of the XTIA butterfly structure 2.0 design
4:Comes with hidden handle design and all brackets( HDD brackets and side AIO bracket) 
5:All aluminum CNC machined (No steel parts) ,Total weight less than 2KG
6:  Handle/ All brackets in the images  are included,no need to buy extra
Compatible hardware

MoBo:            ATX/MATX/DTX      (Not compatible with EATX motherboard)
PSU:             All size ATX PSU.  SFX PSU needs SFX to ATX adapter
Storage:       Maximum 2.5*3 /3.5 *2 HDD/SSD   Related to PSU length +M.2  (Come with 3.5 HDD bracket) 
Water Cooling:      240 AIO(Recommend,Back,Side),   280AIO (Back,Side), 360AIO (Side),420AIO (Side)
                       Note:280 AIO installed behind the motherboard will protrude from the chassis
 About all-new design SATA bracket:
https://xtia.design/blogs/%E6%96%B0%E8%81%9E/the-tutorial-of-sata-bracket-for-xproto-atx
Now you can fix 3.5HDD and 2.5HDD( In the C-zone) 
Share